It's Independence Day weekend celebrating time, and for some that means going and hitting up all the fireworks displays and local festivals you can get your hands on! Here are some lists of what's going on around Louisville and Kentuckiana!
Louisville Waterfront 4th of July
For others (like this tired and busy mom!), you might be thinking let's take it easy this 4th of July and do some fun things together at home! You and your family can craft together, makes some memories, play some outdoor games, cook and bake together, and more with these fun ideas for the all American weekend!
Craft It
Craft together these Patriotic Wind Twirlers to play with outside in the yard on Fourth of July evening! Grab some paper towel rolls and you're ready! This is from Happy Hooligans.
Bake It
Bake these yummy granola bars to have all summer long. Every time you leave the house to go have some fun, grab one to go! They are Peanut Butter Chocolate Trail Mix Granola Bars from Super Healthy Kids. Photo credit Super Healthy Kids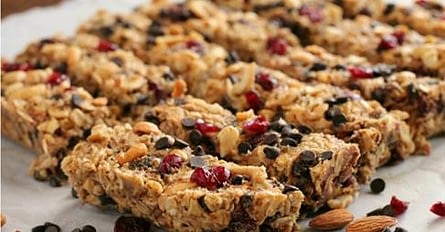 Make It
A few years ago, my kids and I made these super fun and easy American flag shirts to wear on the 4th of July. Take a plain white t-shirt of your choice and get some red and blue paint.
Cook It
Start with some of these really easy to make patriotic and red/white/blue recipes. This Brownie Flag is a great choice, plus there are 25 more options to choose from.
 photo: Spicy Southern Kitchen
Sew It
If you have older kids and want more of a day long project to take on, try making these Patriotic Ric Rac Flowers – idea and pattern from All Free Sewing.
Read It
Here are some fun books to read together to celebrate our nation's birthday. See if they are available at your local library or bookstore.
Corduroy's Fourth of July by Don Freeman
4th of July: Great Facts For Kids About America by Dan Jackson
The Story of America's Birthday by Patricia A. Pingry and Meredith Johnson
Apple Pie Fourth of July by Janet S. Wong and Margaret Chodos-Irvine
Red, White and Boom! by Lee Wardlaw and Huy Voun Lee
Photo credit: www.lfpl.org
Indoor Fun
Indoor bowling at a summer carnival at home! Take some two liter bottles and some dollar store bought balls and make some fun memories bowling together at home!
Outdoor Fun
Here's an idea for a Great American Toss Off Game. Get some dollar store plates and cut out paper to cover them. Write numbers 10, 20, 30, 40, etc. for a fun toss across type game in the yard. You'll need some bean bags to throw (sort of like the ones you have with a game of corn hole).