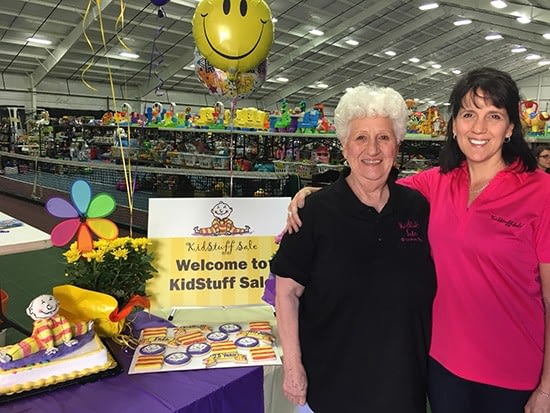 Our Story
The idea for KidStuff Sale was conceived over 20 years ago. I've been a licensed real estate broker for over 30 years and at the time, worked with a family relocating from Tennessee who told her about a consignment event they'd attended in Nashville. I immediately LOVED the concept and decided to start a neighborhood sale, with the help of my mother, Peggy.
The very first KidStuff Sale event was held in my garage and backyard in October 1997. There were approximately 30 friends and neighbors who sold a handful of items, and over the 3 day period, it turned out a success. Neighborhood families found plenty of goodies, and the sellers were grateful for the extra money they took home.
At this point, I had discovered a way to supplement my family's income while bringing together two very valuable parties: families that had outgrown their kids' stuff, and families that needed new items on a budget. It was the perfect pairing and expanded my mission to serve Louisville families both through my KidStuff Sale and my expertise as a real estate broker.
Over the next ten years, we grew the Louisville KidStuff event to over 300 consignors requiring over 15,000 square feet. In 2007, we added events in Oldham County and Southern Indiana, expanding to serve more family's needs to buy and sell their kid's stuff.
In 2017, we celebrated our 20th KidStuff Sale anniversary, making it the longest-running children's consignment event in the area. Nothing has brought me, my family and her team more joy than meeting KidStuff families and hearing how each of our events has impacted their lives, closets, and bank accounts.
KidStuff Sale has become a staple in the Louisville resale industry and remains a blessing to all families who participate as well as many local charities who benefit from donations and merchandise. We greatly appreciate the support over the years and look forward to continuing our service through future events across Kentuckiana.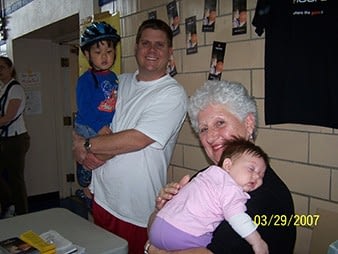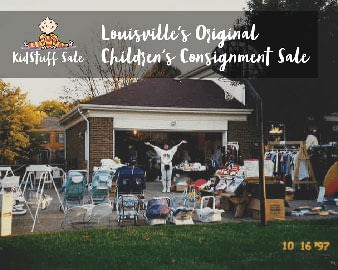 Tracy Suttles
I became a Kid Stuff Sale consigner around 2005, and haven't even thought about leaving since!! I have 7 children and this sale is a blessing for me and my family. I can find absolutely anything I want and need EVERY season without fail. The flip side to this is also how fabulous it is to be able to sell everything I have that I don't need anymore! I sell 75% of my inventory every season and love making the extra cash!! Last but not least is how much I adore the girls I work with. I work about 40 hours every season and am in charge of building the toy floor, and I LOVE IT! I've made so many friends and look forward to every season because I get to spend time with them all week long!! Along my journey I have encouraged so many of my friends to shop/sell for Kid Stuff and they all love it like myself!!! I'm beyond blessed to be involved with this amazing event every year!
Brittany Becht
I first shopped the KidStuff Sale in 2008 while I was pregnant with my daughter. I was so amazed at how much I was able to buy for such awesome prices! After my second child was born I became a seller and was in awe of how much money I was able to make on my kids outgrown items. I use the money I make from selling my stuff to shop at the sale so I'm not spending a penny! Now that I have 3 children I shop, sell AND partner with the team to help run the sale. I LOVE helping at KidStuff Sale! I do a little bit of everything during the sale, but my absolute favorite is helping the shoppers have fun while getting great deals! 
Jenn Keeney
My first experience with KidStuff Sale was in the fall of 2014. I had just had my first daughter and was so amazed at all the great deals to be found! I quickly joined as a seller for the following sale, and have worked at or attended just about every sale since. I officially joined the team in 2018 and LOVE the new friendships that have formed as a result. I have two girls and KidStuff Sale allows me to buy all the things and not break the bank! I love seeing how the sale runs from start to finish, and have a huge appreciation for all the work that goes into this- months before the sale even starts all the way to closing the doors on the trailer at the end.  See you at the next sale!
Amy Cannon
I discovered KidStuff Sale in the Spring of 2007, after the birth of my first son. I've been hooked ever since! The only thing I love more than the the thrill of the savings and deals is the group of friends I've made over the years. This team is like my family. Typically, you can find me manning the Facebook groups or answering email. During the sale, you can usually find me behind the registers. 
Kristen Due
I need more than a paragraph to describe the ways in which KidStuff has impacted our family! For years, I had seen pictures floating around on Facebook of the rows upon rows of clothes, shoes, toys and so much more! Finally, I decided that I wanted in on that action! Rather than beginning as a shopper, I dove right in and became a consignor and team partner. That sale, I made over twice what I spent…an excellent start to what would be an incredible journey with this organization. Having six children, KidStuff has become a way of life. We find everything that we need for the upcoming season, and so much more! KidStuff not only saves us literally hundreds (maybe thousands) of dollars every year, but it has brought incredible people into our lives! Even my husband (secretly) loves this sale! I couldn't imagine ever not being part of this incredible business!
Kim Buckner
I discovered KidStuff Sale a few weeks after my daughter was born and was immediately hooked, 8.5 years later I'm still in love with KidStuff Sale. My daughter who is now 8 loves KidStuff Sale as much as I do. Being able to get her clothes and toys at a fraction of their normal price has been such a blessing. Kim is a jack of all trades and is typically helping with a bit of everything.
Diana Yates
You could say that all my grandkids ensnared me into getting involved with The KidStuff Sale. Being retired certainly has its advantages-like being able to help when needed and shop at very reasonable prices for all those little maniacs! The need to replace their outgrown clothes and toys is intense, so I began selling items for one of my daughters in 2015 and have participated every sale since.
Partnering with the Team to help run the sale has resulted in so many friendships and memorable times. Assisting the customers has been a definite perk of being involved. Not only have I had some really fun times but I've added an extra percentage to my final payout!
The KidStuff Sale brings so many opportunities for personal growth, like organizational skills, customer service for our amazing customers and online sale strategies. Arranging (and rearranging) the Large Item Room and Hold Area have certainly presented challenges at times, but becomes a source of pride when it's finally finished and ready for shoppers.
Since Suzette added the Virtual Sales, I have jumped in with both feet by assisting with strategizing the set-up, check in, pickup and final tear down process.
It's truly a pleasure to be associated with such a fun endeavor. This sale certainly deserved the award for being the Best Kids Consignment Sale in KY!
Cindy Becton
I will never forget walking into my first KidStuff Sale 10 years ago and thinking how AMAZING it was to have such a huge selection. I was about to become a Grandma, they call me "GIVA" for Grandma Diva. I needed all the things since it had been years without little ones in the house. Fast forward to now, I have 6 grandkids and they love coming to Giva's house because I have all the toys! This spring will be 10 years that I have been a part of the team and I love my KidStuff family. I love seeing all our customers and helping them find great deals!