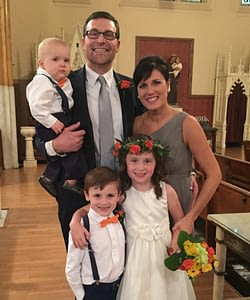 How long have you been consigning with KidStuff Sale?
I have only been consigning items for a year, but I have been shopping at the sale for over 6 years.
What's your favorite thing about KidStuff Sale? 
I love the fact I can sell my kid's clothes that are too small and buy a whole season's worth of clothes for my kids in the same sale. Even when I buy items in the sale, I still end up making money. I also love how clean and organized this sale is. The staff and [team partners] really do a great job at making the shopping experience easy and pleasant. And, of course, I love all the amazing deals you can find! I have found items before that were 80% off of retail!
What's been your best find/steal at KidStuff Sale?
I found a Graco double stroller in amazing condition for only $30!
Tell us about your family!
I am a stay-at-home Mom, and I have been married for over 10 years. I have a 7-year-old daughter, 5-year-old son, and an 18-month-old son. 
What's your favorite thing to do as a family?
We love doing anything outdoors. We love trying new parks with walking paths so we can take our kids on "adventures" 🙂
What's your favorite thing about being a mom?
My favorite part of being a mom is watching my children learn and grow. I love seeing them change every day. Being a mom is the most rewarding part of my life and my kids truly fill my heart with such joy!
When you're not on Mom duty, what do you like to do?
I love running, [team partnering] at the Kidstuff consignment sale, and going to UofL games. Go Cards! 
What's something about you that someone may not know?
I met my husband on the beach in Florida when I was 15 years' old, and we didn't even know we were from the same state, much less the same area. We have been together ever since 🙂
What advice do you have for moms looking to consign with and/or shop KidStuff Sale for the first time?
For consignors, I recommend starting early. A few months before a sale I start to organize my clothes by gender and size so that when it's time to input and tag, it makes it much easier. I also keep a bin in our basement just for toys my children outgrow. When it gets close to sale time, I have all the toys together and ready to tag. 
For shoppers, I recommend consigning items so you can shop early. Plus it's way more fun to spend money when you are making money 😉 Also, give yourself plenty of time to shop. There are so many great deals that you want to make sure you have enough time to shop them all!