Check out our tips below to best prepare your items to sell well
Clothing
Presentation is everything! Press or fluff clothing with a dryer sheet to freshen them up. The better they look, the better they sell! Check for stains, broken zippers, torn hemlines, or musky smells, and remove or repair those items.
All pants must be pinned to the top of a hanger, not to the horizontal bar or folded over. They will fall off or slide to one side of the hanger.
Securely safety pin all sets and accessories together. All pieces need to be visible without having to unpin them.
If you use a tagging gun, please tag through the size tag or a seam. We encourage safety pins to securely attach tags but will accept items tagged with a tagging gun.
Bundle outfits for clothing 3T and under. Secure all pieces to a hanger with pins. Clothing outfits should have only one tag denoting the number of pieces (i.e. "3-Piece Outfit").
Do not hang onesies on a hanger as there are dedicated baskets for onesies.
Newborn and infant items (such as sleepers and leggings) may be hung on a hanger or placed into designated baskets.
Hang items with the hanger facing left, like a question mark (?):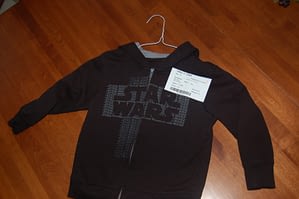 | | |
| --- | --- |
| | As recommended by Grandma Peg: Zout stain remover gets out the toughest stains–even old ones! |
Shoes
Bring only your very best seasonal shoes. (See KidStuff Sale item limits before tagging.)
To tag, use plastic zip-ties. You could also safety pin the price tag to a shoe lace or through the shoe eyelet. Zip-tie shoes together. The most important thing is to secure the shoes together. No shoeboxes, please!
Toys and Equipment
Toys sell GREAT! If you price them reasonably, you'll take nothing home! Here are our pricing guidelines, based on our previous sales:
Large Little Tikes toys and furniture are currently in high demand. With large toys, it's best to place a piece of masking tape to the toy with your consignor number, item number, and price. This will enable us to sell your toy even if the tag comes off!
Toys must be clean and in working order (batteries included). Small parts must be bagged and securely attached to the main toy. If parts get separated the item will not sell. Games should be taped closed.
Puzzles, books, videos, and small toys should be grouped accordingly in Ziploc bags. Secure with clear packing tape and tape tag to the Ziploc bag with barcode facing out. Consider writing your consignor number and info on the Ziploc bag with a Sharpie in case the tag comes out. Puzzles should be wrapped securely in clear Saran wrap to keep the pieces intact.
We will only accept talking and interactive stuffed animal toys in like-new condition. No regular stuffed animals, please!
Car Seats
Your car seat must have been manufactured within the last six years. It must not be subject to recall or have been in an accident. Review the used car seat checklist to determine if the seat is sellable. All seat covers and straps must be thoroughly cleaned.
Furniture
Nursery and youth furniture and room accessories are very popular. If space allows, we may ask that cribs be reassembled for display purposes. Attaching a photograph furniture staged at home often helps the item sell.
Attaching instruction papers, warranties, and other documents to strollers, ExerSaucers, cribs, etc. is an added bonus for buyers. Visit the manufacturer's website to download instructions (these should include the retail price, so shoppers will recognize how much they're saving).
Loose Items
Items like bottles, bibs, rattles, socks, and bows can be grouped together appropriately in Ziploc bags. Seal with clear packing tape. Tape the tag inside the Ziploc bag with the barcode facing out for easy scanning. Consider writing your consignor number and information on the Ziploc with a Sharpie in case the tag comes out during the sale.
Our Best Tips
Toys, books, DVDs, and other entertainment items sell very well. (Don't get caught up in tagging only clothes and forget other profitable items!) While everything that is fairly priced sells well, the toys and large items have a high sell-thru rate. So, don't forget to clean out those toyboxes and playrooms!
Self-inspect your clothing before you tag. Any clothing with stains, tears, pilling, missing buttons or snaps, outdated styles, or smoky and musty odors will be removed during inspection. Inspecting at home will save everyone time at check-in.
For our best pricing tips, check out this page.