Seller Updates
March LIVE Sale |  March 8th – 14th 
Thank you for choosing KidStuff Sale!
All pertinent selling information and venue/event updates will be posted here.  Bookmark this page for ease of access – we will also provide email alerts when new information has been posted.  Below are the latest news updates and quick links to help you jump around the page and find information quickly.  * When messaging KidStuff Sale PLEASE provide your full name, 4 digit seller #  and sale month so we can help you.   Email support@kidstuffsale.com or text/call 502-209-9899
In celebration of our 100th sale - we held a special drawing for one lucky seller to win 100% of their sales - the winner is Beth Shoemaker!...
Choose Below:
Registration Fee ~ Selling Commission ~ Payout
Sellers pay a registration fee of $15 to enter up to 300 items – 200 hanging clothing
Sellers pay a base rate commission of %33 earning 67% of their sales.
Sellers who partner with KidStuff Sale to help fun the event can reduce selling commision to 20% – and also earn the perk of shopping the inventory before the public.
Check In appointments and Partner shifts will be posted approximately two weeks before seller sold item check-in and are filled first come first served.
Seller payments are uploaded to PayPal 10-14 days from the last day of shopper pick up.
Seller Responsiblities
Email support@KidStuff2GO.com  or call / text 502-209-9899 with questions – include your full name, seller number and note the sale you are participating – we will reply to you as quickly as possible
Sale Schedule
Items Entry Deadline for store launch :   February 28th 11:00pm
Item Entry Deadline for store restock: TBA
Team Partner presale: Click and scroll down for schedule
All Seller presale: Wednesday, March 10th 3:30pm
Presale day : Thursday, March 11th staggered starting at 9:00am includes : Earliest Bird Presale, Early Bird Presale, Text Club / HEROS / New Parent/Grandparents
Public Sale: Friday, March 12th  9:00a.m.
Sale Restock: Thur/Fri/Sat 8-9p or 8-9a *by appointment
1/2 Price Team Presale: Saturday, March 13th 4:30pm – Seller 5:30pm
Public 1/2 price: Sunday, March 14th 9:00am – 3:00pm
Important Links
Large Item Tags
Infant Specialty Guidelines - Onesies

Onesies c

an 

serve different purposes (outfit or a shirt or underwear), so there will be a difference in the way they are treated based on purpose.
Part Of A Matching Outfit (Multiple Pieces) – No Limit (Only Your Max Clothing Limit)
Hang & pin the onesie on the hanger if possible or just pin the onesie to the hanger if not

Make sure to pin all pieces to each other

 or vest, layer it over the onesie on the hanger

Pin the waist of the bottoms (pants / jeans / shorts / skirts) to the hanger or back of the outfit

You can secure the bottoms to the horizontal bar with a second set of pins if you would like

DO NOT hang bottoms on the horizontal cross bar
MAX 20 Onesies Total Per Seller (Applies To Onesies Not Part Of A Matching Outfit)
Individual Onesies – Holiday Themed Or Designed To Be Worn As A Shirt
 a bottom (pants / jeans / shorts / skirts) to make an outfit and hang

Only designer name brands can be

 hung

 

– Hang & pin the onesie on the hanger if possible or just pin the onesie to the hanger if not

Pin together (5 pieces) all other onesies for b

Layer onesies on top of each other and pin together with 2 pins at the neck / shoulder

All pieces must be the same size

When dealing with a mix of size specific items (3 months or 6 months) and items with a size range (3-6 months or 6-9 months) then always bundle the range with the lower size. For example: 3-6 months get bundled with 3 months and 6-9 months get bundled with 6 months
Individual Onesies – Designed To Be Worn Under Clothing Or Originally Sold In Bundles
Pin together (5 pieces) for baskets

Layer onesies on top of each other and pin together with 2 pins at the neck / shoulder

All pieces must be the same size

When dealing with a mix of size specific items (3 months or 6 months) and items with a size range (3-6 months or 6-9 months) then always bundle the range with the lower size. For example: 3-6 months get bundled with 3 months and 6-9 months get bundled with 6 months

DO NOT bag or hang
New Section
Don't forget to select a check -in appointment to bring us your sold items. Allow 20-30+ minutes depending on how many items you sold.  Due to Covid 19 we would prefer no children in the venue for sold item check-in.  Everyone must also wear a mask or face cover.  Thanks so much!
Preparing Your Items to Sell Well
Check out our tips below to best prepare your items to sell well
Price right for big earning$!
The secret to great sell-thru:
Price your items to SELL!
Everyone has lots to sell so you must price competitively in order to make money with your clothing items, especially infant sizes. Price to sell! Also, clothing will be worth even less the following season – discount your item so you are not carrying it home.
A good rule of thumb is to price items at 25–35% of the original retail value, depending on the brand and condition of the item. If an item was hardly worn, still has tags, or is a specialty item, consider pricing at 30% of the retail price.
If you aren't sure of the retail value, compare it to the prices of similar items currently online or in stores.
If you are struggling to price an item, ask yourself what you would pay for it if you were a shopper. For example, if you value the item at $5, price it at $3.50 or $4 to ensure it sells before Discount Day.
Say YES, to discount on your barcode tag – our most successful sellers always discount on Discount Day. If the item is still there at the end of the sale it may be overpriced. You don't want to carry home armloads of unsold items!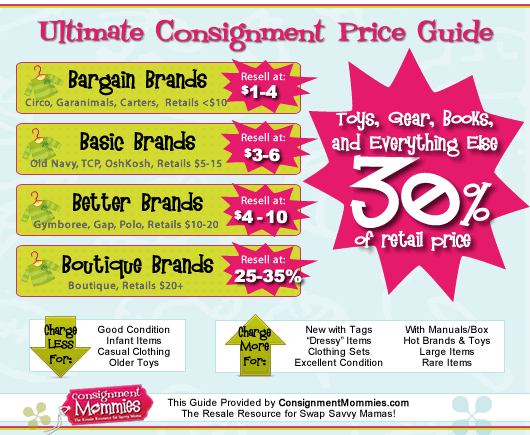 Sell-Through Rates
KidStuff Sale Team wants each seller to have a high sell-through % rate and make the highest profit for your effort. Tracking this information also indicates to the KidStuff Team the sellers who are pricing, prepping and presenting their gently used items.
The sell-through rate is the number of items sold divided by the number of the item entered into the tagging system. For example, if you ultimately sell 149 items out of the 157 items entered into the barcode system – you've achieved a 94.9% sell-through rate (149 / 157 = 94.9%).
This is why it is especially important to remove / exclude off-season items that you are not bringing to the event. Also, remove any barcodes you didn't end up using before the system locks and your starting inventory is captured.
High sell-through rates can earn you free registration, free express valet check-in, access to shop earlier and early access to registration and team member shifts for the next event!
Ways to maximize your sell-through rate and EARN MORE MONEY:
Make sure your inventory is clean and the total # of items meaningful.
When transferring items from a previous sale, make sure you intend to sell them in the current sale – do not transfer items that are off-season, you've decided to give away or have sold elsewhere. Any item in your current inventory that is not brought to the sale will count against your sell-through rate.
Inspect EVERYTHING you bring (clothing, toys, shoes) at home first to ensure they meet KidStuff Sale quality expectations. Unsellable items removed from the floor negatively affect your sell through rate.
Make sure toys have working batteries and large equipment has been wiped down. Dirty or non-working items will be pulled from floor and negatively affect your sell through rate.
Secure your tags to your items. Use packing tape, a hole punch and zip ties to reinforce tags.
Use large items tags for equipment or larger items that cannot be carried to the hold area.
Use large item tags for items valued at $20 or more.
Pin clothing tags through the middle of the tag, with the safety pin going through the clothing twice. Lost tags = lost sales.
Use detailed descriptions on your tags to help your tag be "reunited" with the item if they are separated.
Price competitively and discount your items!
Don't "price up" to earn a few extra dollars. If a toy typically sells for $5.00 and you price it at $6.50, it may not sell until discount day – then you'll only earn $3.25 instead of the $5.00 if you had priced it correctly!
How to Create, Print and Attach Barcode Tags
Tags
Please make sure to use a great quality printer with adequate ink when printing from home. If the barcode is blurry or the ink is faded then the item won't scan and will have to be manually entered which slows down the lines substantially.
The Copy Palace (owner Robert Lampton) is a frequent partner of KidStuff to print tags and has amazing pricing for us! Just email your tag PDF to: copyboy.rl@gmail.com and tags can be picked up Mon – Fri 9am – 4pm. Strongly recommend calling before you head over, his office number is 502-254-5300. 11003 Bluegrass Parkway, Suite 510, Louisville, 40299.
There are two types of tags that can be used:
Regular; Print 8 / Page
Large Item; Print 2 / Page

These should be used for items that cannot be carried to the hold area or items valued $20+
Keep both parts of the tag intact
Creating Detailed Barcode Tags
Creating Detailed Barcode Tags
Some consignors choose to enter detailed information for each of their barcode tags. Detailed information can be beneficial in the case that a tag falls off an item. (Read about our item preparation tips here.) To learn how to Power Tag, click here.
How to Create Detailed Tags
Organize your items into groups by type: toys, clothing, equipment, etc. Sort all clothing by gender, type, and size.
Enter your items into MyCM. Sorting before entering items will save you time, as you'll only have to re-enter the price and description for each new item. Item categories remain the same until you change them.
Edit your tags through the Manage Inventory Here you can print inventory reports, edit groups of or individual items, or see a Projected Settlement Report based on the items you've entered into the system.
As you enter your items, remember to use the Description field to provide brief details about each item. Include size (i.e. Junior, Toddler, Youth), brand (i.e. Gymboree, Lands End), and other descriptions (i.e. color, size, # of pieces). The Description information helps with security, placing your items in the appropriate areas of the sales floor, and locating items for pick-up.
Size your items appropriately, so they are placed in the best area for buyers to see. Clothing is organized by gender and size. Since the Size field does not offer ranges, please defer to the smaller size if your item has a range. (For example, sizes 10-12 should be tagged as a size 10.)
Print tags any time you want: in intervals or all at once when you finish entering your items. Please print tags only on white cover stock or card stock 67 lb. weight or heavier.
Check your tags to make sure the barcode is clear and is not excessively dark. (The 'normal' setting is best to use when printing.)
Tag your items with safety pins by attaching the tag to the top, right-hand side of the clothing (see image below). Hangers should be open to the left like a question mark (?). When applying tape to the toys, equipment, and other items, please do not put tape on the barcode.
Each item must have a unique barcode item # – never reprint a barcode tag page. Sellers are paid once per barcode #. 
Power Tagging - Pros and Cons
Power Tagging is when a seller creates a large quantity of pre price barcode tags without description detail. This can be helpful when pricing items such a books, accessories, etc.  Power Tagging is also helpful when you are short on time and need to create tags before the online inventory system locks in preparation for the event.  Here are the PROS and CONS to using prepriced barcode tags.
Some consignors choose to enter detailed information for each of their barcode tags. Detailed information is very beneficial for a number of reasons.
If a tag falls off during the event we can attempt to match the tag if a buyer wants to purchase your item or when an untagged items is brought to the unsellable area.  We do not sell items without barcode tags.

Sellers are able to track specific items during the sale – determine if you've priced well and use that information for future events.  You KNOW what sells and when.

Sellers are able to print a detailed unsolds report at the end of the sale so you can determine if its worth the time to pick up remaining items or simply donate  them.

Detailed tags make pick up easier as you know specifically what items should be on the sale floor.

Your inventory management is more meaningful – if you decide to reprint a tag, change a discount status or price before check-in you can easily find the item.
PRO    If you would rather not enter your item detail online by using MyCM, you can create pre-priced barcode tags and enter your item data by hand. Power Tagging is fast and easy if online reporting and tracking are not important to you.
Power Tagging Instructional Video
How to print your barcode tags
*Note: The MyCM deadline to enter your items is for data entry only! You may generate your PDF barcode tag file and print your tags any time after the deadline.
After you enter your items, you can print at home (by selecting Print Tags and following prompts), or you can use one of our partner printers.
When printing at home:
Select Print Tags at the top of the page
In the Show [  ] Entries drop-down menu, select the maximum number to print all entries
Check the All checkbox
Click Generate Tags
This will print to a .pdf. You must have Adobe to open this file. Choose to save to your computer or to print.
When printing with a KidStuff Sale partner printer:
Our partner printers will print your PDF on required 60+ lb. white cardstock and cut them if you'd like. The service is wonderful and the tags scan great–meaning faster register lines! With our partner printers, you save ink, paper, and time!
The bundle of tags shown below (approx. 300 tags) costs $8.00*. *Prices will vary depending on partner printer – call to confirm current pricing!  Copy Palace is the best deal  – we suggest you check pricing before you choose  printer.
Simply create your tag PDF file within the system and save it to your hard drive. Address an email to the printer of your choice and attach the PDF file. Be sure to specify that you want the tags printed on 60+ lb. card stock and cut!
Need help with emailing your tag PDF? Contact us!
Here is a sample of the tags you can create using MyConsignmentManager! Learn more about detailed barcode tagging here.
Printing Partners
Louisville
Middletown Printing & Copying
11714 Old Shelbyville Road
Louisville, KY 40243
(502) 244-8711
Copy Palace, Inc.
open Monday – Friday
10478 Bluegrass Parkway
Louisville, KY 40299
(502) 254-5300
Office Depot
1850 Hurstbourne Parkway
Louisville, KY 40220
(502) 491-6725
Oldham County
Fine Print Shop
4725 W. Highway 146
Buckner, KY 40010
(502) 222-0208
Southern Indiana
Office Depot
310 New Albany Plaza (State St)
New Albany, IN 47150
(812) 941-0899
Office Depot
706 E Lewis And Clark Parkway
Clarksville, IN 47129
(812) 283-8364
Using My Consignment Manger to Create Barcode Tags
KidStuff Sale utilizes MyConsignmentManager (MyCM) to allow you to electronically enter all of your items, print your tags, and manage your inventory. The cost of using this system is included in your registration fee.
Benefits to you:
Easy to use
Electronically enter your tags from any computer, tablet or phone with internet access
Calculate your potential sales
Print lists of your sold and unsold inventory
Print an itemized donation list (unsold items) for your taxes
Transfer unsold items from one KidStuff Sale to another without retagging
View sold items before picking up unsold items and receiving payment
Access begins when you register for a sale

Standard Check-In
First, please remember to bring your patience – we are all in this together!!
Wear lighter clothing because some venues can run warm.
Please arrive at the venue at your selected check-in appointment time. You will pull up to the venue entrance where we will assist you to unload your car and place everything in the lobby.
Once unloaded, park your car immediately, then return to the venue to check-in & drop-off your items. DO NOT leave your car unattended in the unloading area!
You may also park, unload your items and bring them in yourself.
While we do have rolling racks and carts, we cannot guarantee they will be available so we recommend you bring your own device to carry your items.
You will check-in at the table by the entrance. Make sure you have electronically signed your seller agreement.
You will need to place your non-clothing items in the designated areas in the lobby based on the numbering system (#1-10) and hang your clothes by size & gender.
Clothing will be placed on the racks in the correct section by gender & size STILL IN GROUPS WITH THE RUBBER BANDS ON THE HANGERS. This is very important as it helps to facilitate our inspection process.

Valet Check-In
Please arrive at the venue at your selected check-in appointment time. You do not need to get out of the car – you will pull up to the venue entrance where we will unload your car and then we will place all your items on the sales floor for you!!
There are two ways to take advantage of the Valet Drop-off:

Mark ALL items DONATE to get this service for FREE
Earn this service for FREE through a high sell-through rate in the previous sale

You MUST bundle your clothes by size and gender with a rubber band. Hanging clothing may be placed in boxes or new garbage / dry-cleaning bags.
Write the category #, contents and your seller # on the outside of each box/bag.
Items are inspected as they are placed on the sale floor – it is the seller's responsibility to make sure all KidStuff Sale standards are met or items will not be put out for sale.
Optional Pick-up Unsold Items
All the hard work is done and, hopefully, you've sold almost all your inventory! So, what about items that didn't sell?
If you selected "DONATE", then you are done! The KidStuff Sale team will handle donating your items for you. A donation tax slip will be provided.
If you did not select "DONATE", but have so little left that you've decided you no longer want to pick up your items. Great! Just leave them and any items not picked up will be donated. A donation tax slip will be provided.
If you did not select "DONATE" and want to pick up your items:
Schedule your pick-up up appointment time through the link provided one week prior to the scheduled pick up date. The link will be emailed directly to all registered sellers.
The night before or morning of pick-up, print your Inventory Report of items in the current sale and the View Settlement Report (lists barcodes that cleared the register). Compare the two to identify the items to pick-up. You can also can run a Unsold Report – this report will be available daily as sales are uploaded and unsold items reconciled as sold.
Arrive at your scheduled time and bring your inventory list or report with you.
Park and come into the venue; DO NOT leave your car unattended in the loading area! If you have a large item that needs to be picked up, then please claim it and all your other items FIRST. Leave them in the lobby and then bring your car to the loading area.
While we do have rolling racks and carts, we cannot guarantee they will be available so we recommend you bring your own device to carry your items. We also recommend bringing boxes to gather your items.
Remaining unsold items are still in display order on the sale floor. You will pick up your items from the appropriate display areas.
Items with Lost Tags will be on display as well as items that were found to be Unsellable during the inspection process. Inventory descriptions must match in order to claim items with Lost Tags – thanks for understanding.
Ask a Pick-up assistant if you need help looking for a particular item.
Sign out your inventory with KidStuff Sale team member before leaving.
PayPal payments will be sent to your registration email shortly after the end of the sale. See email for details.
As stated in the seller agreement, KidStuff Sale cannot take responsibility for lost or stolen / creatively shopped items. We also cannot hold items after pick-up ends. You are welcome to notify us of items that you cannot locate and we will ask the donation pickup team to check for them when loading.
Transferring Inventory
*Not all events offer to transfer/ not all items can be transferred.
Once you enter a barcode into our system, you can edit, transfer, and reprint it for future events. Note: The previous sale must be unlocked by KidStuff in order for you to access the unsold items that you want to transfer. This is usually done one or two days after the close of that sale.
How to Transfer
Register and log into the upcoming  sale and go to Manage Inventory.
Under Select a Sale, choose the previous sale and click Select Sale. You'll now be looking at the previous sale's inventory and will notice items are marked Sold or Unsold.
To transfer only the Unsold items, locate the column titled Status at the top, select Unsold, and click on Refresh. The list will now contain only the items which didn't sell at the previous sale.
Select the items and barcode tags you want to transfer by clicking on the appropriate checkboxes or select the Check All box. Choose only those items that are accepted for the upcoming season.
MyCM will store ooff-season barcode data for up to 18 mo.
Under the Other section on the right side, click on Item Transfers.
Use the drop-down box to select the upcoming sale.
Once you have transferred your items, go back to the Select a Sale drop-down box. Select the upcoming sale option and click on Select a Sale button. You have now confirmed that your previous inventory is now in the upcoming sale.
Tried these steps and still need help? Contact Support@KidStuffSale.com
Transferring barcodes from one KidStuff Sale to another is easy! Whether you are joining us the same season at another event location, or saving items for the next season sale – once the tagging work is done transferring unsold items is super easy!
Ready to enter your items? Login now!