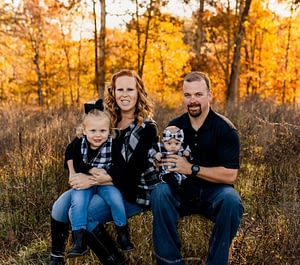 How long have you been consigning with KidStuff Sale?
I have been consigning for about 4 years. I started shopping with my sister a year before I started selling. She told me I should start selling and the rest is history.
What's your favorite thing about KidStuff Sale?
I love getting the great deals and meeting new people. I love working with all the people that help put the sale on and meeting people that are new to selling. Its always a fun time working.
What's been your best find/steal at KidStuff Sale?
Too many to count.
Tell us about your family!
My husband, Kristopher and I have been together for 10years and have been married for 5 years. We have 2 beautiful daughters, Tinslee and Whitlee. Tinslee is a smart and sassy 3 year old. She loves to play with barbies, babies, farm animals, and loves being out doors. Whitlee is 5 months old and loves being the center of attention.
What's your favorite thing to do as a family?
Our favorite thing to do as a family is just hang out as a family together. We love doing things on the farm and taking care of all the animals.
What's your favorite thing about being a mom?
I love the look on my kid's faces when they see me. I like working but I love coming home and seeing my kids. They both light up when they see me and my 3 year old daughter always tells me that she misses me when I am at work.
When you're not on mom duty, what do you like to do?
I am a registered nurse and like helping people. I work at a hand surgery center and used to be a pediatric ER nurse. I love meeting new people in my job.
What's something about you that someone may not know?
I live on my farm and we have about 30 head of cattle, 2 goats, 2 cats and a dog. I did 4-H for 10 years.