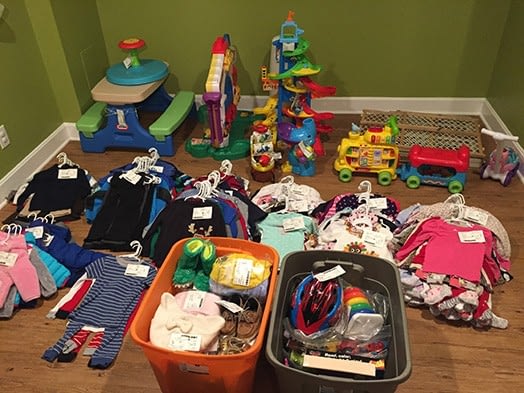 Declutter and cash in!
You've got hundreds of dollars in unused toys and outgrown clothing in your home.  Sellers keep 67% of their sales and save up to 90% on purchases! Time to cash in!
Swap out for your favorites!
Swap the outgrown items in your closets for brands and styles you love – reduce consumer waste while helping other families
Average check is over $400!
Our sellers, on average, bring home over $400 for approx. 150 of their unused items. Often much more than they spend on an entire new wardrobe when shopping KidStuff Sale.
Gently used or new clothing, outwear and accessories or children newborn through young adult.
Seasonal shoes, boots, cleats and athletic shoes that are in like new or very good condition.
Athletic wear, d

ance, gymnastics, sportswear & gear-shoes, leotards, accessories and sports equipment.

Toys – Toys – Toys – they sell great! Wipe them down, put in fresh dollar store batteries.  "Dress Up" clothing accepted year-round.
Infant equipment  and furniture – clean and with batteries.
Infant, feeding and maternity accessories.  Crib Sheets and infant blanks.
Crib and infant bedding limited to Pottery Barn only.
Maternity Clothing – TBA If it is determined we have room for maternity, registered sellers will be notified via email.
KidStuff Selling Options
No matter how you sell with us, you will get to shop BEFORE THE PUBLIC at our exclusive Seller Presale!
Sell In Person or On Line
In Person Sellers
Earn 67% of sales
Enter and Tag Items – check-in at venue
Shop seller presale before pubic sale
Shop 1/2 price sale before public
If you choose, unsold are donated to charity for you
Virtual Sale Sellers
Earn 67% of sales
Enter your items online
Tag and check-in only the items that sell
No online chatting or negotiating prices
No missed meetups or porch pickups
Shop before  the public
TagForYou
TFY sellers earn 40% of sales
We store/tag/price/prep and deliver for you
Shop seller presales before the public
Save time / make money
If you choose, unsold items are donated for you
Toy & Equipment Buy Program
earn flat amount per item/order
Sell to KidStuff outright vs. waiting
Clear the clutter now
Shop before the public