Public Sale Days
Nov 11-13
Shop from local families at our in-person sale!
Thurs. 11/11 ~ 11am – 7pm
Fri.  11/12  ~ 9am – 7pm
Sat.  11/13 ~ 10am – 4pm  
Free admission – Free Parking!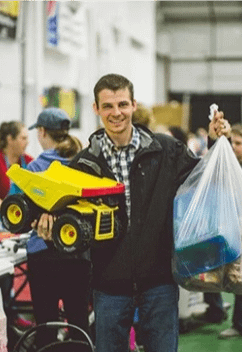 Early Bird only for Holiday sale starting at 10 am 
Early Bird, New Parent, & Hero Pre-sales
Sale Location:
 

Triple Crown Pavilion
1780 Plantside Drive Louisville KY 40299
Triple Crown Pavilion in Louisville, KY
Why shop with
KidStuff Sale

?
Since 1997 KidStuff Sale has been helping families throughout Kentuckiana locate gently used, quality items for their children, while also providing a venue for families to sell unused items adding to the family budget.  We would love for you to join our community – as a shopper, seller or both!
Buy what you need… sell what you don't
Sign up for text & email updates, newsletters, and contest news!
Contests! 
Enter a number of early shopping contests offered on our WEBSITE PAGE,  on Facebook, Instagram page  and through our email blasts.
We give away early shopping passes, KidStuff Kash and a $100 shopping spree!
*winners are announced on Facebook  and IG and are also verified by email invitation
Pre-Sale Shopping

 : Early Bird Access
Early Bird PreSales
Earliest Bird Presale Ticket 
Shop Thur., Nov 11th @10am and
Shop 1/2 presale Nov 13th at 9am 
Ticket cost $15
Early Bird Presale Ticket *next is Feb 2022
Shop, Day, Month xxth @ xpm
Ticket cost $12.00
Shop early for a wonderful selection of merchandise and prices while supporting our sponsor charity.
A portion of the proceeds donated to local charities voted on by our community of sellers.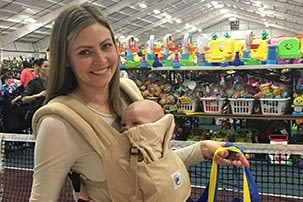 New Parent Presale
Registered Special Guests 
*registered via website or social media – be sure to bring email invitation for entry! Thx 
Registered New Parents/Grandparents
Register if you are a new parent, grandparent and foster parent with little one 12 mo. or younger – invitation good for registrant plus 1.*if you must bring a child they count as your plus 1 and must be in a wagon or stroller – thank you for understanding.
  Registered HEROS  and First Responders / Heros who serve others
Register for this special early presale for Police, Firefighter, EMT – Active or retired Military, Registered Nurse, Teacher or Seminary.
The next DOLLAR DASH benefiting Norton Children's Hospital will be held on Sunday, Feb 20th – 12pm – 2pm.