Seller Updates
Virtual Sale ~ January 21-24
Thank you for choosing KidStuff Sale!
All pertinent selling information and venue/event updates will be posted here.  Bookmark this page for ease of access – we will also provide email alerts when new information has been posted.  Below are the latest news updates and quick links to help you jump around the page and find information quickly.  * When contacting us provide your full name, sale you are participating and 4 digit seller # so we can help you.   Email support@kidstuffsale.com or text/call 502-209-9899
Whoa!  We are here putting together orders for pick up and finding a very high number of glass and fragile items with NO packaging.  If you brought...
Choose below:
Registration Fee ~ Selling Commission ~ Payout
Sellers pay a registration fee of $10 to enter up to 500 items
Sellers pay a base rate commission of %33 earning 67% of their sales.
Sellers who partner with KidStuff Sale to help fun the event can reduce selling commision to 25% – and also earn the perk of shopping the inventory before the public.
Check In appointments and Partner shifts will be posted approximately two weeks before seller sold item check-in and are filled first come first served.
Seller payments are uploaded to PayPal 10-14 days from the last day of shopper pick up.
Seller Responsiblities
When the system is closed for data entry, all items in the seller account are in the KidStuff Virtual Sale and will be offered for sale online. DO NOT cross post items on other platforms.
It is each sellers responsibility to tag sold items with buyer code tag. If for some reason the seller cannot do so, the seller is responsible for getting the sold items to the venue and the sale will print buyer code tags, prepare the sold items and check-in the items for the seller as a cost of $1 per item.
It is each seller's responsibility to deliver any/all sold items at seller check-in in the manner. If for some reason a seller cannot deliver sold items, they must make arrangements for the delivery such as family member or uber.
If sellers are unable to produce an item at seller check-in, have entered duplicate items or if the item is sized/described incorrectly, damaged, stained, or otherwise in unsellable condition, the seller will be assessed an administrative fee of the cost of the item PLUS an additional $15 for each group of 3 rejected items per sale. *Quality Control light Inspection will occur at seller check-in and by shopper at pick up.
Email support@KidStuff2GO.com  or call / text 502-209-9899 with questions – include your full name, seller number and note the sale you are participating – we will reply to you as quickly as possible
Sale Schedule
Items Entry Deadline for store launch :   January 16th 5:00pm *firm
Item Entry Deadline for store restock: No restock as of 1/1/21
Team Partner presale: Wed, Jan 20th staggered / TBA
All Seller presale: Wednesday, Jan 20th  TBA
Presale day : Thursday, Jan 21  staggered starting at 8:00am includes : Earliest Bird Presale, Early Bird Presale, Text Club / HEROS / New Parent/Grandparents
Public Sale: Friday, Jan 22nd 8:00a.m.
Sale Restock: N/A
1/2 Price Presale: Sat Jan 23rd Team Partners 4pm All Sellers 5pm
Public 1/2 price: Sat, Jan 23rd 6pm thru Sun, Jan 24th 12pm
Seller Sold Item Check-In: Mon., 1-9p and Tues. 9-11a *by appt only.
Shopper Pickup: Wed. 9-9 and Thur. 9-11a *by appointment only
Social Links - follow and share!
Preparing your items to be entered
Seller Preparation
Inspect ALL ITEMS

 

prior to

 

entering them in the system.

 

Clothing should be free of stains, holes, piling, odors, and shrinkage. All items must be clean, non-damaged, and in working order. You are responsible for providing the item as described once the data entry period is closed. No cross posting.
Determine where you will take the photos.

 

Create an area with a clean, simple background and excellent lighting. Avoid shadows.
Organize your items by category.

 

This will speed up item entry process (optional). A full category listing with subcategories is available in the category dropdown.
Brand/Description line.

 

List the Brand first, then all other critical information on the first line. If no brand, start with item description (do not list n/a or unknown). Add dimensions of items such as artwork, and place ruler in the image.
Entering your items
CATEGORY. Choose the correct category for your items – or choose a category that make sense if you were shopping for that item.  Categories are how items will be organized in the storefront. 
SIZE. This must be accurate! Do not sell items that have shrunk and no longer match the size stated on the manufacturer tag. When entering infant clothing that is marked as a range choose that range and also list the size in the description. (i.e. 3 mo garment list in notes and put in appropiate size range. If you must choose a  "CLOSE" category or size be sure to note exact details in the space provided.
BRAND (Desc) Field. Include brand (if applicable or available) and important descriptors (i.e. "Radio Flyer Tricycle", "Carter's long sleeve onesie, navy", or "Baby blanket, light blue, NWOT"). Use all the space provided!
DESCRIPTION Field. Use this space to continue to describe your item (i.e. "Like New, pedals fold in").
PICTURE. Use the tips listed above for photo entry. Only 1 photo upload per item or a collage of 2 pictures
PRICE. Minimum price is $3.00. If you have items that are less than $3, try to bundle. Books is a good example.
DISCOUNT. Check the box if you would like your items discounted on the last day.
DONATE. Do not use this field. We will NOT donate your unsold items.
TRANSFERRED ITEMS. Transferred items must match our listed category/size options. You will need to edit the items and add a picture.
Packaging your items for check-in
Each item must be packaged seperately and have a unique shopper tag attached. 
Sellers will scan each item and place in the approriate shopper basket and mark off list.
Do not bundle items together that go to the same seller – each must be scanned.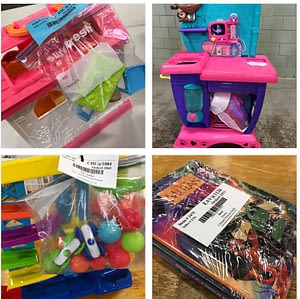 Good ideas!
Use all the characters in both description fields – after listing the brand, add other pertinent info completely describing the item.
Use all available characters in both fields  – add color, list dimensions or other helpful size information
Add size to bedding sets / lenghth / width to blanets
Add a ruler in your photo to provide a reference to size.
Please, Please DO NOT put 1.50 items in the sale for $3 hoping they sell for 1/2 price.  Bundle items to a true value of $3, less pages of over priced items to scroll through. 
Quick Links   *the section below is under contruction:)

How do I bundle items for check-in?
Once all the shopper barcodes are attached to sold items you will bundle as follows:
1. Gather clothing and items by shopper code and pack in alphanumeric order.  
2. Shopper baskets are arrange in alphanumeric order and you will place items in each basket. 

What happens at Seller Check-In?
Pull up to the unloading area at the event venue.
Unload our vehicle into the lobby/greeting area and then park your vehicle away from the unloading area.
Sold items will be scanned into our system  to confirm all items are accounted for to fulfil shoppers orders.
After items are scanned, sellers place items in shopper baskets by shopper order code.
That is it! All done!
What to Expect DURING the sale
We like to keep track of our items during a sale. If you're looking for your items during the sale, you can search by your seller ID in the Shopify shopping site global search bar. Doing this will pull back your items and items that contain your seller number in the code. For example, if my seller number is 123 and there are some sellers who have items numbered 123, my search will pull back those items, as well. This is normal. Please do not email asking about items that aren't yours but appear to be under your seller ID.
If your items do not seem to be loaded to the Shopify sale site:
Go into MyCM (where you enter your inventory) and verify that you can see the photos for each item. If there is a gray X box, your item did not load into the sale site due to a photo issue.
Copy the exact item name from MyCM into the Shopify sale site global search bar. It may have been accidentally loaded into a different category than where you're searching.
Wait for the email confirmation that sales have been loaded into your MyCM account, then verify the item is sold.
If you accidentally uploaded more than one listing for one item:
Ensure in MyCM that there is more than one listing for the one item.
Go to the Shopify sale site and purchase the extra, accidental item. This saves you money in the end. Items sold to buyers and not brought to drop off incur additional fees as per your seller agreement.
If you see your items with the "sold out" tag in the sale and then can't find them again, odds are good that they sold. KSS uses an application that removes sold items from the sale site at 90-120 minute intervals so that the sale site isn't clogged with sold items. This is frustrating to shoppers.
MyCM and Shopify are NOT interconnected. Because of this, we must manually load the sold items to MyCM from Shopify. This takes time and is not an instantaneous occurrence. Once this is completed, you will receive an email, or you may check the blog, to review your most recent sold items.
Once you receive the email about uploaded sales, you can print buyer tags. Find an option that works for you. Here are some options:
Print a total inventory and check off items that you print tags for at each upload. After each upload, select only the new items to print to cardstock.
Print each set of buyer tag at each upload. Throw away duplicate tags.
Wait until the final upload of the sale and print all buyer tags once.
Don't forget to select a check -in appointment to bring us your sold items. Allow 20-30+ minutes depending on how many items you sold.  Due to Covid 19 we would prefer no children in the venue for sold item check-in.  Everyone must also wear a mask or face cover.  Thanks so much!
Helpful videos and example photos
Videos, How-to's, and Instructional images  will be added here.
Ready to enter your items? Login now!