Virtual Seller Section & Communication Hub
Let's get this party started – KidStuff Sale style!
Welcome to KidStuff Sale!  All pertinent selling information and venue/event updates will be posted here.  Bookmark this page for ease of access – we will also provide email alerts when new information has been posted .  Below are the latest news updates and quick links to help you jump around the page and find information quickly.  * When contacting us provide your full name, sale you are participating and 4 digit seller # so we can help you.   Email support@kidstuffsale.com or text/call 502-209-9899
Seller Guidelines
Registration Fee ~ Sales ~ Payout
Sellers pay a registration fee of $10 to enter up to 400 items 
Sellers pay a base rate commission of %33 earning 67% of their sales.
Sellers who partner with KidStuff Sale to help run the event can earn the perk of shopping the inventory before the public.
Seller sold item Check In appointments  will be posted no later than two weeks before seller sold item check-in and are filled first come first served.
Seller payments are uploaded to PayPal 10-14 days from the last day of shopper pick up.
Seller Responsibilities
When the system is closed for data entry, all items in the seller account are in the KidStuff Virtual Sale and will be offered for sale online. No edits or deletions once data is uploaded to the online store.  DO NOT cross post items on other platforms.
Once the online sale is over, each sellers is responsible to tag sold items with buyer code tag. If for some reason the seller cannot do so, the seller is responsible for getting the sold items to the venue and the sale will print buyer code tags, prepare the sold items and check-in the items for the seller as a cost of $1 per item.
It is each seller's responsibility to deliver any/all sold items on seller check-in day at their scheduled time. If for some reason a seller cannot deliver sold items, they must make arrangements for the delivery such as family member or uber.
If sellers are unable to produce an item at seller check-in, have entered duplicate items or if the item is sized/described incorrectly, damaged, stained, or otherwise in unsellable condition, the seller will be assessed an administrative fee of the cost of the item PLUS an additional $15 for each group of 3 or more rejected items per sale. *Quality Control light Inspection will occur at seller check-in and by shopper at pick up.
Email support@KidStuffSale.com  or call / text 502-209-9899 with questions – include your full name, seller number and note the sale you are participating – we will reply to you as quickly as possible
Sale Schedule
Items Entry Deadline for store launch :   Jan 30  11:59pm
Item Entry Deadline for second upload:  Feb 3 11:59pm
Presales: Wed., Feb 2nd 
Public Sale:  Feb 3th / 6th
Sale Restock: Feb 4th

Public 1/2 price: Sun. 6th 10am

Sale ends: Sun., Feb 6th  8pm

Seller Sold Item Check-In: Feb 18
Shopper Pickup: Feb 19/20
Social Links - follow and share!
Seller FAQ
What happens if a shopper rejects one of my items?
A  KidStuff Team Partner will inspect the item. If they find that it does not meet the description given, or it has glaring defaults that do not meet the KidStuff Sale standard of quality, the shopper will be refunded the amount paid. That dollar amount, plus an additional fee will then be deducted from the Seller's proceeds.
What happens if I cannot bring a sold item to check in?
The shopper will be refunded. The seller will be charged the full retail amount of the item the amount, minimum charge is $5.00 per item.  Additional administrative fees will be added if multiple pieces are not brought to check-in.
How does working as a Team Partner benefit me?
Helping as a Team Partner reduces the amount of selling fee you pay to sell your items – you are helping to sell your own  and other sellers items – team partners also enjoy earlier shopping times.
Should I wrap my fragile items?
Yes, sellers are required to pack fragile items as if they were being shipped. We cannot accept items not properly packaged. Sellers are charged a $15 admin fee for fragile items left at check-in without proper packaging.
See preparation details below:
Buttons are not linked to the sections below as of yet. Please scroll down, thanks!

What do I need to know for online entry?
CATEGORY. Choose the correct category for your items – or choose a category that make sense if you were shopping for that item.  Categories are how items will be organized in the storefront.
SIZE. This must be accurate! Do not sell items that have shrunk and no longer match the size stated on the manufacturer tag. When entering infant clothing choose accurate range and put the exact label description on the tag.
BRAND (Desc) Field. Include brand (if applicable or available) and important descriptors (i.e. "Radio Flyer Tricycle", "Carter's long sleeve onesie, navy", or "Baby blanket, light blue, NWOT"). Use all the space provided!
DESCRIPTION Field. Use this space to continue to describe your item (i.e. "Like New, pedals fold in").
DECOR .  All item descriptions must have dimensions to indicate size and scale.  Place a (logo free) ruler in the image if need be.
PICTURE. Use the tips listed above for photo entry. Only 1 photo upload per item or a collage of 2 pictures
PRICE. Minimum price is $3.00. If you have items that are less than $3, try to bundle. Books is a good example. DO NOT list an item valued at $1.50 for $3 to sell on half price day – sellers who price this way will be removed from the sale.  Group items if need be.
DISCOUNT. Check the box if you would like your items discounted on the last day.
DONATE. Do not use this field. We will NOT donate your unsold items.
TRANSFERRED ITEMS.  IF allowed, transferred items must match our listed category/size options. You will need to edit the items and add a picture.

How do I package sold items?
Sold item tags must be printed on WHITE HEAVY WEIGHT PAPER, 67lbs or heavier.
Each item must be packaged separately and have a unique shopper barcode tag attached.
Outfits are folded and secured by rubber bands, safety pins or clean baggies or bread bags.
Do not bundle items together that go to the same seller – each must be scanned.
Use larger shopping bags for bulky items or with loose parts – make sure pieces are secured and accounted for – secure the bag by knotting, taping or stapling closed.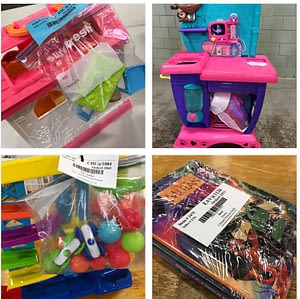 How do I bundle items for check-in?
Once all the shopper barcodes are attached to sold items you will bundle as follows:
1. Gather clothing and items by shopper code and pack in alphanumeric order.
2. Shopper baskets are arrange in alphanumeric order and you will place items in each basket.

What happens at Seller Check-In?
Pull up to the unloading area at the event venue.
Unload our vehicle into the lobby/greeting area and then park your vehicle away from the unloading area.
Sold items will be scanned into our system  to confirm all items are accounted for to fulfil shoppers orders.
After items are scanned, sellers place items in shopper baskets by shopper order code.
That is it! All done!
What to Expect DURING the sale
We like to keep track of our items during a sale. If you're looking for your items during the sale, you can search by your seller ID in the KidStuff store global search bar. Your items will populate on the screen IN ADDITION to any other item that contain your seller # – Don't worry if you see other items listed when you *search your seller ID. 
If your items do not seem to be loaded to the KidStuff Store:
Go into MyCM (where you enter your inventory) and verify that you can see the photos for each item. If there is a gray X box, your item did not load into the sale site due to a photo issue.
Copy the exact item name from MyCM into the KidStuff Store global search bar. It may have been accidentally loaded into a different category than where you're searching.
Wait for the email confirmation that sales have been loaded into your MyCM account, then verify the item is sold.
If you accidentally uploaded more than one listing for one item and didn't catch it before the store opening:
Ensure in MyCM that there is more than one listing for the one item.
Go to the KidStuff Store and purchase the extra, accidental item. This saves you money in the end. Items sold to buyers and not brought to drop off incur additional fees as per your seller agreement.
If you see your items with the "sold out" tag on the KidStuff Storefront and then can't find them again, don't be alarmed. KidStuff Sale uses an application that removes sold items from the storefront at 90-120 minute intervals so that the sale site isn't clogged with sold items. This is frustrating to shoppers.
MyCM and KidStuff storefront are NOT interconnected. Because of this, we must manually load the sold items from the online store to MyCM. This takes time and is not an instantaneous occurrence. Once this is completed, you will receive an email letting you know sold item information has been updated.
Once you receive the email about uploaded sales, you can print buyer tags. Find an option that works for you. Here are some options:
Print a total inventory and check off items that you print tags for at each upload. After each upload, select only the new items to print to cardstock.
Set date criteria on print function and print daily.
Print each set of buyer tag at each upload. Throw away duplicate tags.
Wait until the final upload of the sale and print all buyer tags once.
What to Expect AFTER the sale
AFTER the Sale:
Before printing buyer tags:
In the Manage Items tab of MyCM, sort "Item Sold?" to see sold items, only.
Cross check this list with your "Sold Items Labels" in the Settlement Report Tab to ensure everything was captured. If you cross check this list before printing to paper, this will save paper/ink if something was missed.
Printing Tags:
Once you receive the email about uploaded sales, you can print buyer tags. Find a method that works for you.  See the section above for options.
Sorting items:
Sort by alphanumeric buyer code
At the Venue:
Upon entry, you will check in, and then proceed to a computer to scan your items into the venue. If anything is missing, broken, or didn't make it to the venue despite being sold, give those tags to the check in person.
At the computer, scan all barcodes.
After scanning barcodes, proceed to place items in buyer baskets. Baskets are in alphanumeric order.
Don't forget to select a check -in appointment to bring us your sold items. Allow 30-60+ minutes depending on how many items you sold.  Only Sellers are allowed in the order area – seating will be provided for children who must attend check-in.  Everyone must also wear a mask.  Thanks so much!
Helpful videos and example photos
Videos, How-to's, and Instructional images  will be added here.
Ready to enter your items? Login now!